Knitting yarn
1、 Gauze
It refers to the linear density of yarn, which generally reflects the diameter of the yarn.
A. Fixed weight system: that is to specify the length of yarn per unit weight. For example, 1s / 1 means that a 1lb yarn is 840 yards long, so the larger the number, the finer the yarn. For example, the 20s / 1 means that the length of the wire with the weight of 1lb is 20×840 yards. The larger the number, the finer the yarn
B. Fixed length system: specify the unit length. For example, 1D means that the weight of yarn with a unit length of 9000 meters is 1g, and 70D means that the weight of yarn with a unit length of 9000 meters is 70D, so the larger the number, the thicker the yarn.
Artificial cellulose fiber:
The main components are rayon, model, Tencel, etc. Among them, rayon's strength is poor, especially the wet strength is worse, so it can't do pc-merc. Rayon cloth generally has strength problems. Due to its nonreaction to the resin, its shrinkage is large, accompanied by problems such as slating & skew, and it is difficult to improve. The strength of the model is better, but the pilling is poor, and shrinkage and slating are difficult to control. Tencel has the highest strength. After special treatment, Tencel has no pilling problem.
3other
Blended yarn (such as t/c60/40, cvc60/40, etc.), special yarn (such as gold and silver wire, etc.)
Knitted fabric
One or more yarns fed from weft direction are bent into a series of loops by knitting needles, and then the new loop generated this time and the old loop generated last time are connected to form a knitted fabric.
Loop (k)
Set circle (T)
Floating line (W)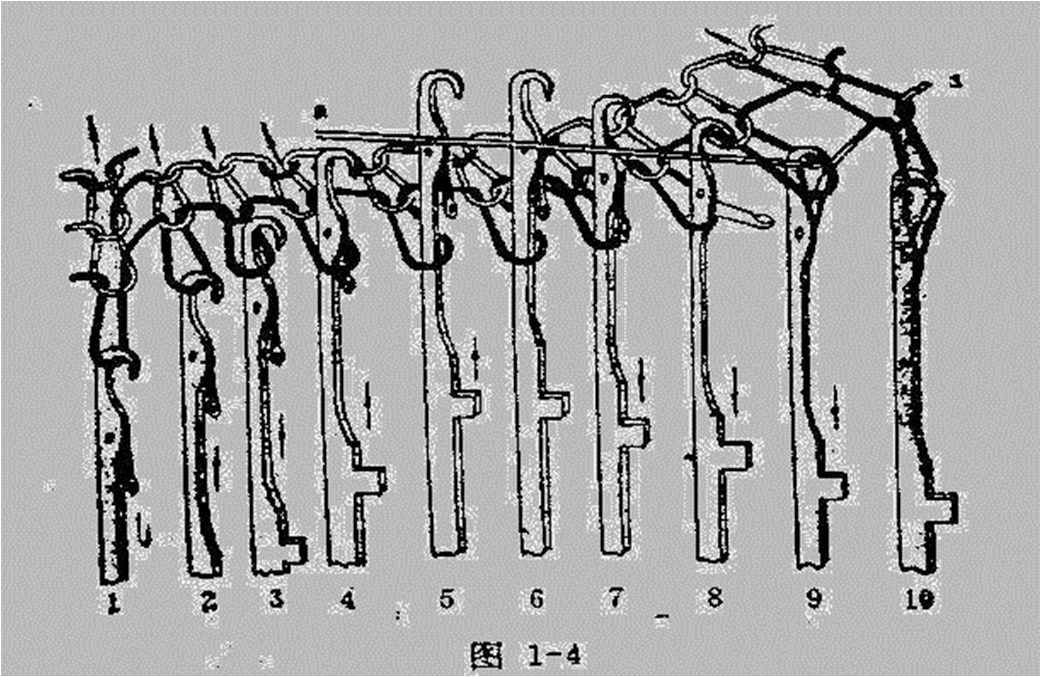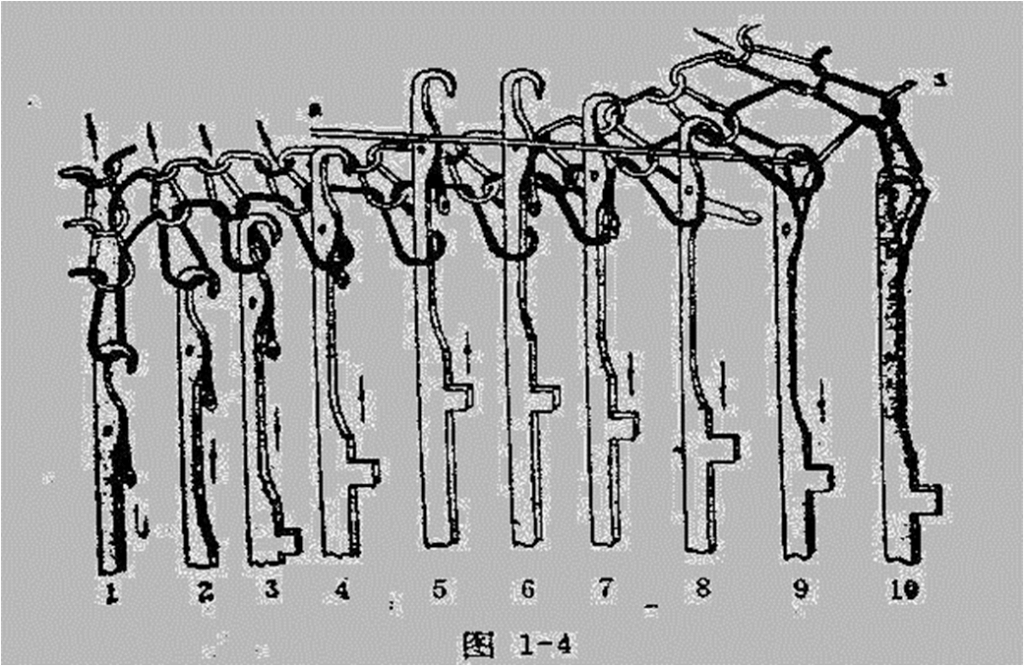 Jersey, pique, Lacoste, towel, and Terry are the most conventional and popular knitted single-sided fabrics.
Rib, interlock, French rib.
By using different finishing methods, different yarn count and yarn types, and adjusting different knitting processes and tension, we can achieve different customer requirements and styles of fabrics, such as handle, physical properties, and various functions.
The sweat cloth is composed of continuous and circular tissue, which includes ordinary sweat, woven Jersey and spandex.

Plated Jersey is formed by knitting two different yarns (different yarn types or different colors) at the same time. Cotton and polyester interweaved Jersey is the basic structure of moisture absorption and quick drying fabric

ELASTIC Jersey

Spandex or DuPont Lycra yarn and another yarn such as cotton or polyester are knitted into a ring structure.
We can now produce three kinds of fabrics knitted at the same time
Basic Fabrication- Pique
Pique, eight Pique, four Pique, six Pique,Twill Pique,Athletic Pique
Single jersey circular knitting machine
4F Pique
Oxford pique:The yarn of different colors is the ring forming and the ring collecting.
*Spandex bead: spandex is only knitted in the lap position, so the elastic quality is worse than that of spandex sweat cloth, especially in the horizontal direction.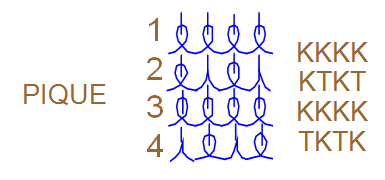 4F Pique face 4F Pique back
6F Pique
The characteristic of 6 F Pique is that it is composed of one continuous loop and two collection loops on the same vertical path.
8F Pique
8F Pique It is characterized by two continuous stitches forming a circle and two continuous stitches gathering a circle on the same longitudinal path.
Twill Pique
Twill Pique structure is composed of a loop, two floating lines and a float stitch.
Athletic Pique
Athletic Pique structure is composed of two loops and a float stitch
Lacoste
Lacoste have A surface with hexagonal mesh. It should be the reverse side of the fabric.
Lycra Fabric
3*1 terry lycra fabric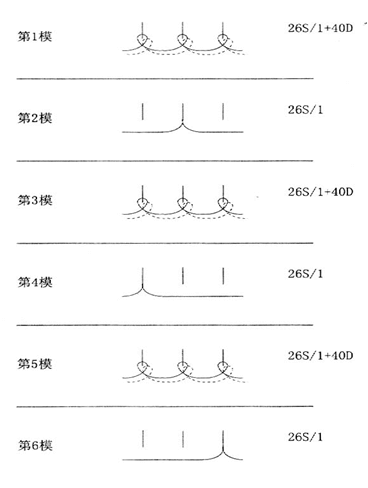 4*1 terry lycra fabric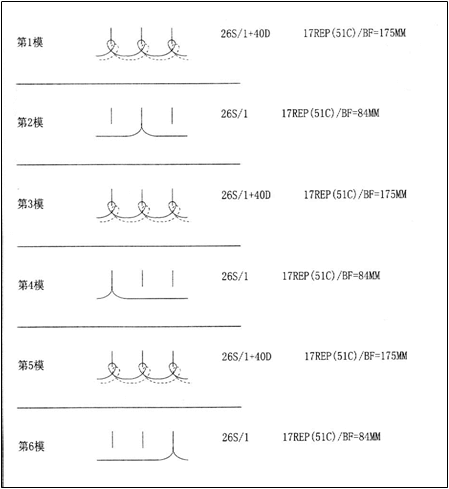 Single Terry circular knitting machine
Lycra 1*1 Rib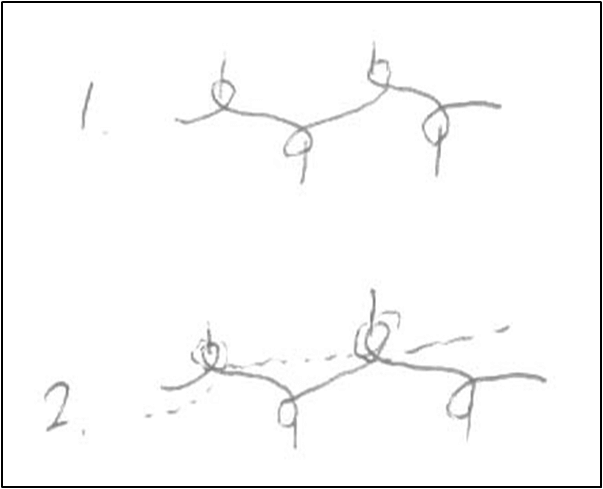 Lycra 2*2 Rib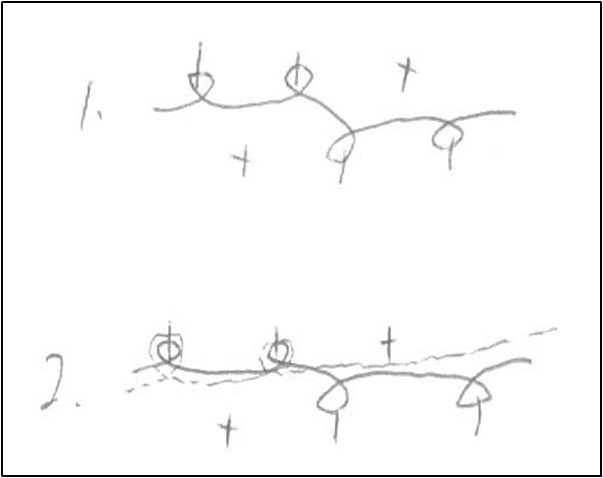 8F French Rib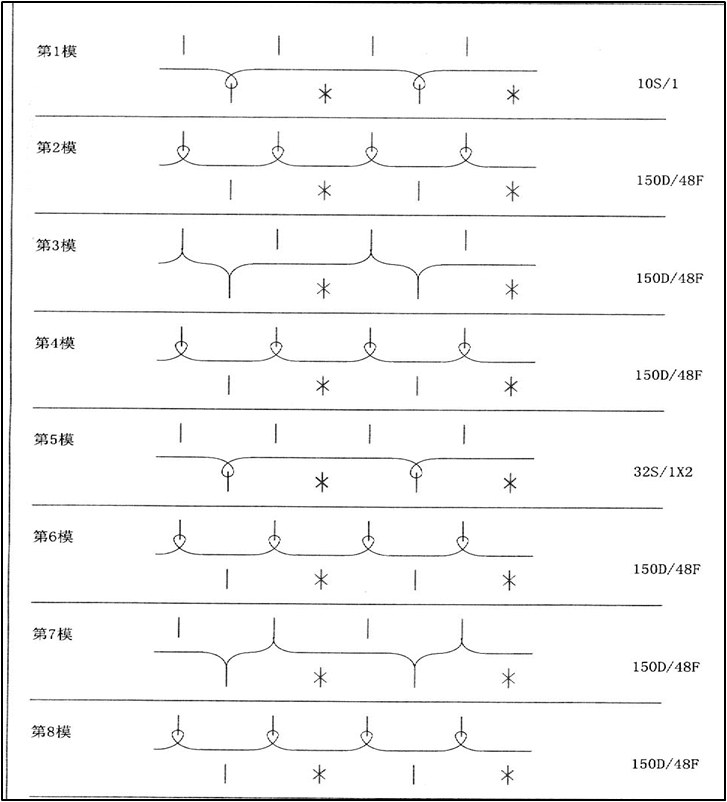 French Rib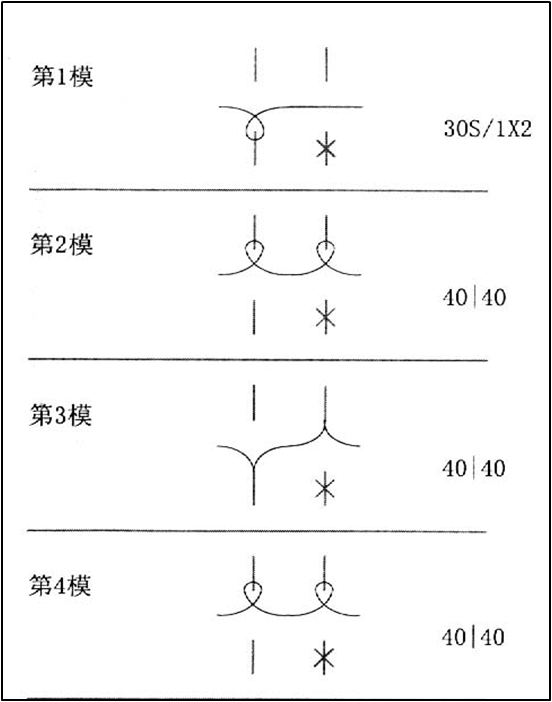 2X1 SCALE FRENCH TERRY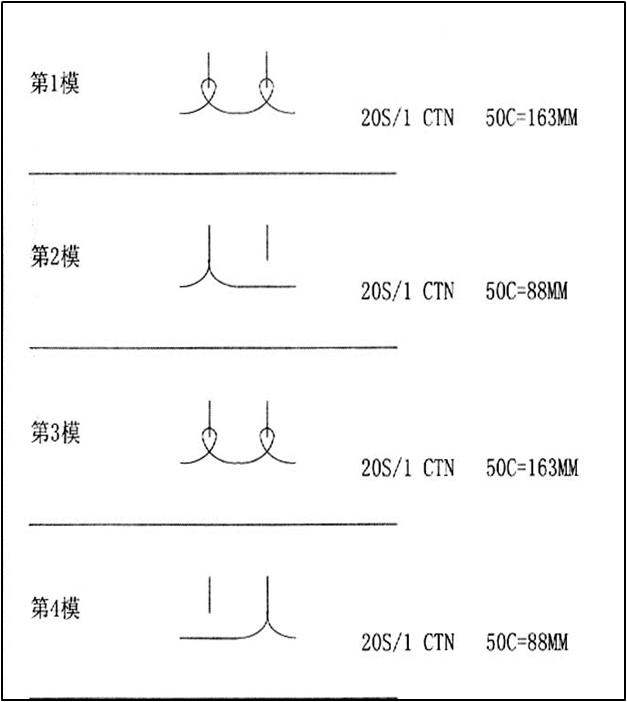 4X1 SCALE TERRY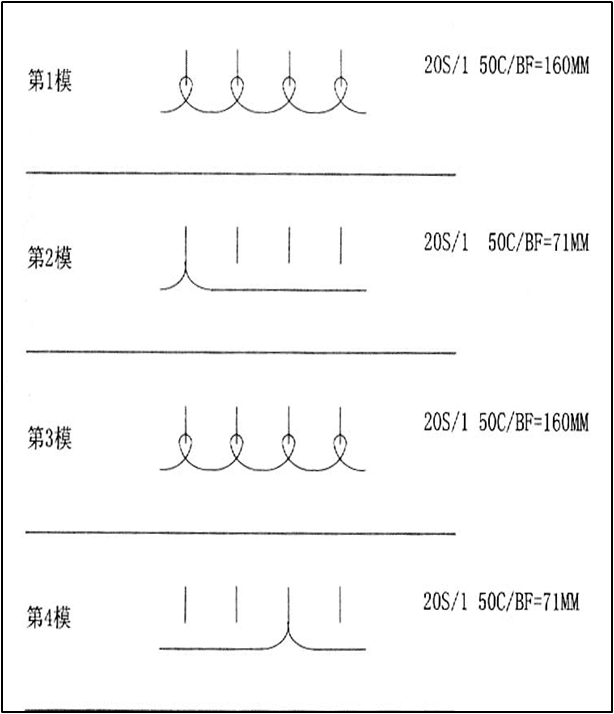 4X1 SCALE FLEECE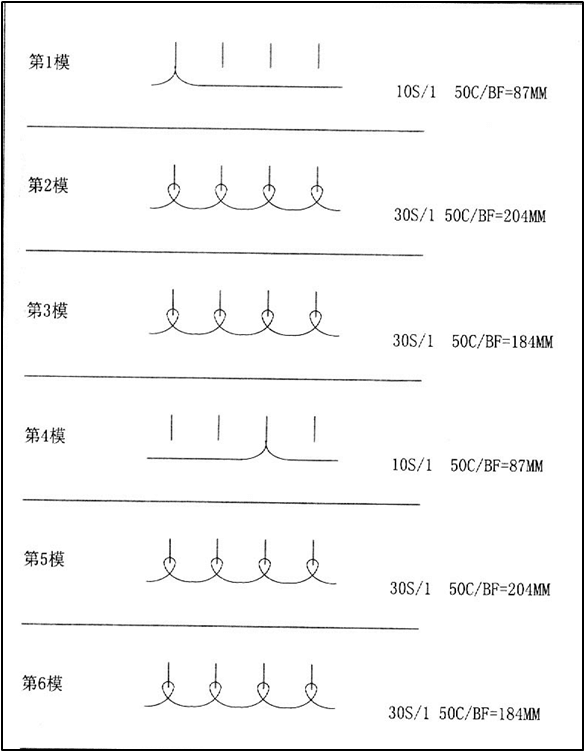 3X1 TWILL FRENCH TERRY(2)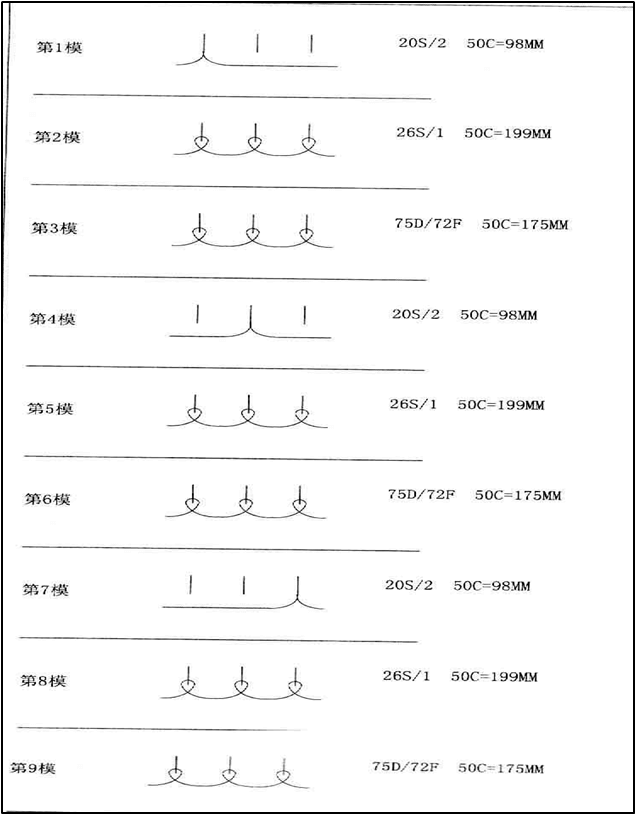 conclusion
Usually, spandex have: 20d, 30d, 40d, 70D, and Core yarn: cotton as the surface, core for spandex, such as 40sx70d cotton spandex yarn
Spandex fabrics need to be performed to improve crease and stability. Spandex can be applied to the following fabrics:
Automatic inter Jersey and single bead, rib, and single terry fabrics. Spandex should not be used on the following fabrics:
Slub yarn and high twist yarn fabric, double sweater, suspension fabric. Hanma brand circular knitting machine can make any fabric of all over the fabric.
Heat-setting Heat setting refers to the process of keeping the fabric at a certain size under appropriate tension, heating it at a certain temperature for a certain period of time, and then rapidly cooling it down. Heat setting can eliminate the existing creases on the fabric, improve the dimensional stability of the fabric, make it …