Specifications for the maintenance and maintenance of large circular knitting machines in the workshop
Purpose
In order to make the daily maintenance and maintenance of the company's production equipment have rules to follow, so as to maintain the normal operation of the production equipment and reduce the incidence of equipment failures, these regulations are specially formulated.

   2. Scope of application

   Workshop large circular knitting machine.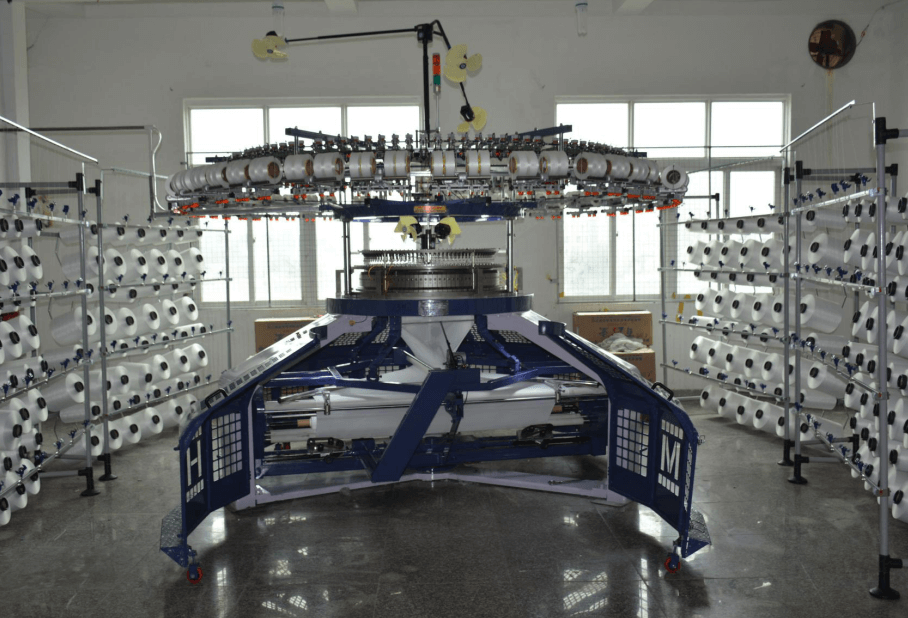 3. Content

  3.1 Responsible person
  The technical group of the production department and the car operator are respectively responsible for the maintenance work. The technicians of the technical team often inspect the workshop every day, communicate with the shift workers, and conduct a comprehensive and detailed inspection of the machine once a month, and deal with problems in a timely manner.
   3.2 Day Warranty
  3.2.1 Remove the lint and fluff attached to the surface of the creel and machine table every shift. Keep the knitted components and the take-up device clean.

  3.2.2 Check the self-stop device and safety device every shift, if there is any abnormality, immediately dismantle or replace it.
   3.2.3 Check the active yarn feeding device every shift, and remove it for repair or replace it immediately if there is any abnormality.
   3.2.4 Check the oil level mirror of the crankshaft and the oil level pipe of the fuel injector every shift.
   3.3 weeks maintenance
  3.3.1 Clean the yarn feeding speed adjusting the aluminum plate, remove the lint accumulated in the plate, and check whether the tension of the conveyor belt is normal.
  3.3.2 Check whether the belt tension of the transmission system is normal and whether the transmission is stable.
  3.3.3 Check the operation of the cloth winder.
   3.4 months warranty
  3.4.1 Remove the upper and lower plate triangle seats and remove the accumulated lint.
  3.4.2 Clean the dust removal fan and check whether the blowing direction is correct.
  3.4.3 Clean the lint in all electrical accessories.

   3.4.4 Review the performance of all electrical accessories (including self-stop system, safety alarm system, detection system).
  3.5 half-year warranty
  3.5.1 Washing machine. Thoroughly clean the upper and lower dials, including the knitting needles and sinkers, select all the knitting needles and sinkers, and replace them immediately if damaged.
  3.5.2 Clean the fuel injector and check whether the oil circuit is unblocked.
  3.5.3 Clean and check the positive yarn accumulator.
  3.5.4 Clean the lint and oil stains in the motor and transmission system.
  3.5.5 Check whether the waste oil collection oil circuit is unblocked.
  3.6 Maintenance and maintenance of main parts of circular knitting machine
3.6.1 Cleaning the needle groove can prevent dirt from entering the knitted fabric with the needle. The cleaning method is: replace the yarn with a low-grade or waste yarn, turn it on at high speed, and inject a large amount of needle oil into the needle cylinder while running Add oil until the dirty oil completely flows out of the tank.
   3.6.2 Check whether the knitting needles and sinkers in the needle cylinder are damaged, and the damage should be replaced immediately; if the quality of the cloth surface is too poor, it should be considered whether to renew all.

   3.6.3 Check whether the width of the needle groove of the needle cylinder is the same distance (check whether there are straight stripes on the woven fabric surface) and whether the needle groove wall is defective. If the above problems are found, they should be repaired or updated immediately.
   3.6.4 Check the wear of the triangle and confirm whether the installation position is correct and whether the screws are locked.
   3.6.5 Check and correct the installation position of each yarn feeder, if any wear is found, it should be replaced.
   3.6.6 Correct the installation position of the narrowing triangle of each yarn feeding port so that the length of each loop of the weaving fabric is uniform with each other.
  3.7 The lubrication method, oil and lubrication execution of the machine
  3.7.1 Lubrication method and oil
  3.7.1.1 The oil level mirror of the large chainring should be checked every day. If the oil level is lower than 2/3, the oil should be refueled manually. Use 140#–160# engine oil. During the half-year maintenance, if oily deposits are found, they should be replaced immediately.
  3.7.1.2 Dating transmission gear should be checked once a month and grease should be added. Use No. 4 bentonite grease (commonly known as snow oil).
   3.7.1.3 During the half-year maintenance, check all transmission bearings and add grease. Use high-temperature grease.
  3.7.1.4 The lubrication of all knitting machines (including oil injection machines) must use special needle oil for high-speed circular knitting machines, or special lubricants for disc knitting machines.

  3.7.2 Lubrication execution
  Accurately grasp the oil type and lubrication time of each part, so that each designated part of the machine in the whole plant can be lubricated with the specified type and amount within the specified time.
  3.8 Maintenance and maintenance of power distribution system
  The power distribution system is the power source of the knitting machine. Strict regular maintenance must be implemented to avoid unnecessary failures.
  3.8.1 Check the machine for leakage.
  3.8.2 Check whether the switch button is invalid.
  3.8.3 Check whether the detectors everywhere are safe and effective at any time.
   3.8.4 Check the circuit for wear and disconnection.
   3.8.5 Check the inside of the motor, clean the dirt attached to each part and add oil to the bearing.
  3.9 Precautions for shutdown and storage
   The machine is maintained and maintained in accordance with the six-month maintenance program. Lubricating oil is added to the knitted components; oil-proof is added to the knitting needles and sinkers. Finally, the machine is covered with oilcloth soaked in needle oil and sealed in a dry and clean place.
  3.10 Storage of machine parts and spare parts

  3.10.1 The normal storage of commonly used and vulnerable parts is an important guarantee for the continuity of production. The general storage environment should be a cool, dry place with little temperature difference. The specific storage methods are as follows:
  3.10.2 Storage of syringes and dials
  First, clean the syringe, put in engine oil and wrap it with oilcloth, and put it in a wooden box to avoid bumps and deformation.
   Use compressed air to remove the oil in the syringe before use, and add needle oil when using it.
  3.10.3 Storage of triangle
   Sort the triangle into the warehouse, store it in a box and add needle oil to prevent it.
  3.10.4 Storage of knitting needles and sinkers.
   New needles and sinkers should be placed in the original packaging box, do not remove the sealing strip.
   Old needles and sinkers must be cleaned and inspected, and the damaged ones must be picked out, stored in a box, and put in needle oil prevention. Note:
  All knitting parts (including knitting needles, sinkers, cams and needle cylinders) should only be cleaned with knitting oil, so as not to affect the normal performance of other parts of the machine.
   The spray lubrication system of the circular knitting machine must provide clean and dry compressed air without moisture. Therefore, the air compressor unit should be equipped with a water-proof and dehumidifying device. At the same time, it should be ensured that the high-pressure air output by the pipeline is free of dirt and debris. The storage time of parts should not be too long and should be checked regularly.
   4. Record
  4.1 "Maintenance Record Form"
Double Jersey Rib Interlock Circular Knitting Machine install with two tracks CAMs on the dial plate and four tracks CAMs in the cylinder, through adjusting
the position of CAMs, the machine can knit various fabrics such as twill, interlining fabric, air layer fabrics, little jacquard interlayer gasket, bubble-bubble, crape, knitting cloth, pique fabric, etc. If the double jersey machine installs lycra feeders and attachments, it can also knit stretch double jersey fabric. All types of fabrics produced by the machine are widely used in producing underwear, coat fabrics, varied sportswear, and fashion fabrics.
•The machine is suitable for long and short fabric, rib fabric, and jacquard fabric, and yarn socket can be independent with spandex device to weave elastic double fabric 2+4 distance
•The machine can weave complex fabric with changed texture and lower material high-class clothing.
The cams on the lower and upper dials of this machine feature a closed-track design with cams of knit, tuck, and miss. The yarn feeder can be adjusted independently allowing knitting of elastic double jersey fiber by installing an additional Lycra attachment. Also comes equipped with varying types of cylinder, easy and quick to transfer, enabling this machine to meet the never-ending demands of the knitting market.
Weight: 2800kg
Condition: new
Knitting type: circular knitting
Application: 24"-68"
Gauge:15G-44G
System support:72F-272F
Needle: China/ Germany
Speed: 16-24r/m
Warranty: 1 year
Lead time:30 days
Stitch Density: High speed
Control system: Hanma Drive type: Sea flight
Related Product
Company Profile Related Product Related Article Contract us
Related Article
Heat-setting Heat setting refers to the process of keeping the fabric at a certain size under appropriate tension, heating it at a certain temperature for a certain period of time, and then rapidly cooling it down. Heat setting can eliminate the existing creases on the fabric, improve the dimensional stability of the fabric, make it …
Introduction of circular knitting machine Until now, circular knitting machines have been designed and manufactured for the mass production of knitted fabrics. The special properties of knitted fabrics, especially fine fabrics made by the circular knitting process, makes these types of fabric suitable for application in clothing, industrial textiles, medical and orthopaedic garments, automotive textiles, hosiery, agro and geotextiles, etc. …
Classification of knitted fabrics   knitted fabric is made of continuous loops. According to the continuous loop formation method, it can be divided into two types, namely warp knitting and weft knitting         Circular knitting     Weft Knitting Knitting         Flat knitting Warp knitting Weft-knitted yarns are bent into loops in the transverse …
Knitting yarn 1、 GauzeIt refers to the linear density of yarn, which generally reflects the diameter of the yarn.A. Fixed weight system: that is to specify the length of yarn per unit weight. For example, 1s / 1 means that a 1lb yarn is 840 yards long, so the larger the number, the finer the …
Circular knitting machines are generally divided into two categories: single-sided series and double-sided series. But according to the types of fabrics processed and produced (academically called fabrics. Commonly called grey fabrics in factories), there are the following types:Single side seriesThe single jersey circular knitting machine is a machine with a needle cylinder. Specifically divided into …
Computer Vision-Aided Fabric Inspection System for On-Circular Knitting Machine This paper describes a computer vision-based fabric inspection system implemented on a circular knitting machine to inspect the fabric under construction. The study consisted of two parts. In the first part, detection of defects in knitted fabric was performed and the performance of three different spectral …
Read moreCircular knitting machine basic operation knowledge
What is circular knitting machine? Circular knitting machine, scientific name knitting circular weft knitting machine (or called circular knitting machine). Due to a large number of the loop forming systems of the circular knitting machine (called the number of yarn feeding paths or loop forming paths, referred to as the number of loops in the …
Contract us
Condition: New
Product Type:fabric
Type:Circular
Production Capacity:250-750kg
Place of Origin: Fujian China
(Mainland)
Brand Name:HANMA
(circular knitting machine)
Model Number:HM-DF4
(circular knitting machine)
Power(W):5.5kw
(circular knitting machine)
Knitting Style: knitted
Knitting Method: Double
Computerized: No
Weight:2.5TON
Dimension(L*W*H):2.35*2.28*2.28M
After-sales Service Provided:Engineers
available to service machinery overseas
speed:0-30RPM

Certificate: CE
machine type: double jersey
turn way: anticlockwise

fabric function:sports garment
Zhenfu Knitting Machinery Co., Ltd. is a professional enterprise specializing in manufacturing machines, woven products, and apparel. We are also engaged in the production and design of fabrics and large diameter circular knitting machines for woof weaving and knitting. We have three trademarks — "HANMA", "LUHU", "ZHENFU".We introduced foreign advanced computer process equipment and test and measurement instruments. We also research information reflection from consumers for stratifying customers' different demands. We have a group of engineer technicians with rich experience. They can develop new products according to customers' specifications. We are based on the enterprise tenet of "Credit, Factualism, and Innovation" and persist in the management concept of "Quality is the Base and Credit is the First". We can supply top-ranking products and perfect after-sales services to our customers. We have taken root in a vehemently competing market of diameter circular knitting machines. Our company was awarded ISO9001 certificate in 2003. We have developed into a production factory with a certain scale. We offer large diameter circular knitting machines, including rib universal machines, large high-speed and single-sided jacquard cylinders, high-speed and single-sided large diameter circular knitting machines, back-to-face packed pole loop machines, and single-sided sanitary clothes. We welcome all clients to contact us.
No
Description
Supplier
Brand
Quantity
1
Insert flake type cylinde&dlar(Germany metal)
Hanma
China
1 unit
2
Needles
Groz-beckert
Germany
1 Set
3
Positive storage yarn feeders
Hanma
China
1 Unit
4
Oiling lubricator
Hongsheng
China
1 Set
5
Yarn Creel
Hanma
China
1 Set
6
One way take-down device
Hanma
China
1 Set
7
Invertor
Sunyue
China
1 Set
8
Fabric Spreader equipment
Hanma
China
1 Set
9
Cams
Japan
1 Set
10
Digital indicator control panel
Hanma
China
1 set
11
Automatic dust fans with blower equipment.
San song
China
1 set
12
Radar type round 360' clear dust equipment
San song
China
1 set
13
Spare tools
14
Operation manual for invertor & controller panel
15
Extra Spare parts : (a) 100pcs needles (b)Feeders 1pcs
(c)Air blower gun 1 set (d)Fuse 4pcs (e) Yarn carrier 1pcs
(f)Needle oil 1 liter
*Features:
1.Most of the structures and main parts are produced by an advanced processing center, which ensures precision and accuracy. Interlock fabric needs very high precision, Hanma machine can help you to reach the beautiful surface, to catch the high-end customer.
2.All cams are made of special alloy steel and processed by CNC under CAD / CAM and heat treat. The process guarantees the great hardness and wear-proof.
3.Use GROZ-BECKERT needles and KERN-LIEBER'S sinkers which ensure the fabric quality and long life of the machine.
4.The fabric knitted can be widely used for many fields, such as diving fabric, yoga fabric, underwear fabric, sandwich fabric, car seat fabric, and all kinds of double jersey fabric.
Betboo en populer canli bahis sitesi
I. Introduction In this blog post, we will explore the fascinating world of circular knitting machines and learn how to set them up. Circular knitting machines are versatile tools that enable the creation of seamless knitted fabrics in a variety of designs and patterns. Whether you're a hobbyist or a professional, understanding how to properly …
Introduction Jacquard Circular Knitting Machines have revolutionized the textile industry by enabling intricate and detailed pattern creation on fabrics. These machines offer a wide range of design possibilities, from complex motifs to multiple colors, allowing designers and manufacturers to unleash their creativity. With their advanced needle selection and control systems, Jacquard knitting machines produce high-quality …
Introduction Circular knitting machines are an important part of the textile industry, used to create a wide variety of knit fabrics for clothing, home textiles, and industrial products. These machines have been in use for over a century and have evolved significantly over time. In this blog, we will explore what a circular knitting machine …
Nylon is the domestic product name of polyamide fiber. There are wide varieties, but their molecular main chains are connected by amide bonds (-C=O-NH-). Foreign names include nylon, nylon, Capron, etc., and is the most developed synthetic fiber in the world. This article mainly understands the performance of nylon. Wear resistance Compared with polyester, nylon …